God, your saving acts reach to the skies. You have done great things. God, who is like you? You have sent many bitter troubles my way. But you will give me new life. Even if I'm almost in the grave, you will bring me back.
– Psalm 71: 19-20
I am way overdue with an update and before I update you on my current status, let's take a minute to revisit my official No Evidence of Disease report, shall we?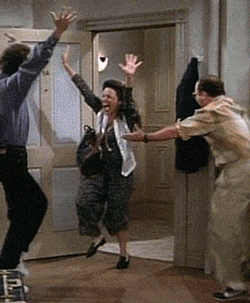 This was pretty much the reaction all around on Floor 8 of the Yawkey Cancer Center, and this is the reaction I imagined having with all of you who follow our story and are always with me in spirit. BEST DAY EVER!!!!
Rewind to end of May, seven months into treatment. After getting a preliminary clear report from a Tupelo radiologist May 26, I was hesitant to get my hopes up. The radiologist at Mass Gen had been reading my scans as no change since December 2014, even though the report from Tupelo cited significant changes each time. Fast forward to June 3 in Boston. Dr. Sullivan did not have the radiology report during my office visit, so I went up a floor to the infusion center for treatment as usual. About an hour into treatment one of our research trial nurses came bursting through the door, official report in hand. "As soon as we got the CR email I printed this out for you because I knew you'd want to frame it!" she said. "What is a CR?" I asked. "Complete Responder!" she squealed. I held the print off in my hands and let my eyes focus on those two glorious letters…CR, that she had highlighted in neon yellow. And the tears just started falling. Then there were lots of hugs, squeals, more tears, high-fives, fist bumping and a steady stream of staff, some whom I had never met, coming into my room for congratulatory hugs. We've basically been celebrating every day since, hyper-aware of God's goodness every day I get to wake up cancer free.CANCER FREE, y'all.
It's a report SO FEW people with my diagnosis receive, and to say I continue to be overwhelmed with gratitude is a gross understatement. The Lord has answered my cries, our cries, in a HUGE way. After just seven months of treatment, the tumors have all disappeared. Un.be.lievable. Miraculous, really.
June 3 was such a significant day for us, and one I will never forget. But today is also a significant day.
Today is the 1 year anniversary of my diagnosis. Exactly one year ago Vic and I were sitting on my parents front porch swing, staring at our cell phones, waiting expectantly in heavy silence for the call with the results from my lung biopsy. Dr. Victor called Vic's phone and the conversation was just a few sentences long. I could tell from Vic's reaction that this was the news we had been terrified we might receive. After taking a minute to swallow the news and compose ourselves, we had to walk inside and tell my mom and dad. I tried to appear strong and hopeful for my parents and my family, but my heart was full of dread for what this news meant. We stood in the kitchen, not really knowing what to do next. I looked out the back kitchen window and saw Madeleine, barely four years old and Charlotte one year old by one day happily playing on the playground. I silently wondered if I would be alive for their next birthday. How much time did I have left to hold them, comfort them, teach them, love them? I felt trapped in a story that could not possibly be meant for me.
Four days later we were sitting in an oncologist office in Los Angeles listening to doctor tell me I had approximately 14 months to live. Gut wrenching.
The next 6 weeks were a blur and filled with an unplanned move to Mississippi; doctor appointments; second, third, and forth opinions; research, research, research; and a LOT of prayer. Even with the stress of trying to find treatment and the uncertainty of my condition, we began to see God's hand in midst of the turmoil.
That is why today is significant for another reason besides our diagnosis anniversary. Today also marks the day one year ago when the avalanche of prayers began on our behalf, when love was poured out lavishly on us by friends and strangers and the comfort that comes from Christ visited us in a way I had never before experienced. I have never ever felt so loved and so humbled. Incredibly, peace came down and rested on my spirit in the midst of the most fearful time of my life. Grief was intertwined with comfort, and fear was overpowered by peace and great assurance that God was with us and in complete control. God really is good enough and powerful enough to gift us with comfort and peace in life's most excruciating moments.
After spending several weeks stressed and exhausted about which treatment path to take, we were disappointed when we were told the clinical trial we felt was my best option was completely full. No open spots. The option we had left was not very promising and the statistics looked grim, but we knew time was of the essence, so we decided to start treatment the following week.
On the plane ride home, God comforted me with Psalm 139:13-16 "For you created my inmost being; you knit me together in my mother's womb. I praise you because I am fearfully and wonderfully made; your works are wonderful, I know that full well. My frame was not hidden from you when I was made in the secret place, when I was woven together in the depths of the earth. Your eyes saw my unformed body; all the days ordained for me were written in your book before one of them came to be."
He reminded me that He knit my body together and He knew EXACTLY what medicine my body would respond to, so I needed to stop worrying. I immediately felt settled and confident about starting treatment. Two days later, on Monday morning, the onc called us to let us know that there was actually a "hidden" spot in the clinical trial (our first choice) that no one was aware of, and it was mine if I wanted it.
Isaiah 12:4
In that day you will say: "Give thanks to the LORD, call on his name; make known among the nations what he has done, and proclaim that his name is exalted."
I started treatment at the end of Ocotober 2014 and had my first scan in December. The radiologist was shocked but thrilled to report my tumors shrunk in half after just one cycle of treatment. Every scan since has been better than the last, and the doctors have been amazed at my progress. Last I checked, I am still the only complete responder in this particular trial, but I am praying that more will follow!
God has grace has been so evidence to us as so many of you have stood beside us the past year in incredibly powerful ways - holding us up in prayer, giving to us financially, the notes, the texts, the food, the calls, the visits… caring for us in countless ways. It's been the most humbling experience of my life. That you would take time to remember me in your prayers....in the midst of all of life's busy and hard...There is no adequate way to say thank you. You are part of our miracle, and your support continues to spur me onward as I continue with my treatments. I thank God for you every day.
We flew home after that NED appointment and pulled up to my parent's house to pick up Madeleine and Charlotte. They ran outside to greet us, yelling "MOM!!!" and as Madeleine clung tightly to my leg, I lifted Charlotte up for a kiss. She cradled my head in her chubby hands, looked me in the eyes and said, "my momma."
Y'all……I get to stay here a little longer and be their momma.
One year ago I was on my knees crying out to God with such urgency it left me exhausted. I begged Him for more time. I pleaded with Him to let me live here with my people for a little longer. And one year later, I am looking to the future with a renewed hope. I feel free to dream again. God has been so incredibly gracious and good to me.
So what does life after the CR/NED report look like? I will continue treatment for the full 24 months, so I am still traveling to Boston every other Sunday for a Monday infusion (but my September treatments will be on Wednesdays). I am on schedule to finish up in November of 2016, so we have a ways to go. I would love to speed things up because I am just so ready to feel good again, but this is a marathon, not a sprint. And I want these drugs as long as I can have them. Plus, I love telling people on the elevator that I'm just here for the illegal drugs. So there's that.
My veins are hanging in there! The primary side effect I am battling is fatigue. My white blood count has been too low the past month, which just means I'm more prone to getting sick and intensifies my fatigue. I am learning my limits and trying to rest when possible, and I'm taking full advantage of the days when I feel well. Even with the fatigue, I'm so thankful I can still function and enjoy life. My neuropathy is still occurring in my feet, but not nearly as frequently. Nausea comes and goes, but is manageable with medicine. Overall, I'm tolerating the drugs really well.
Because the medicine is so new, no one has any real idea about the durability of my remission. I am in a Phase I trial, so there is no long term data available yet. My goal is to just being thankful for the here and now instead of focusing on the "what-if's" or the "how longs." It's a work in progress, and easier said than done. But I am so grateful to still be here, and to have the opportunity to hope and believe for many more good years. God's grace and mercy has sustained me every second of the past year, and I know He will continue to walk with me every step of this journey.
I have adopted Eugene Patterson's definition of hope: "Hoping does not mean doing nothing… It is the opposite of desperate and panicky manipulations, of scurrying and worrying. And hoping is not dreaming. It is not spinning an illusion or fantasy to protect us from our boredom or our pain.It means a confident, alert expectation that God will do what He said He will do. It is imagination put in the harness of faith. It is a willingness to let God do it His way and in His time."
Thank you, thank you, thank you for your amazing support, friendship and prayers.You just have to know I could not have made it without you.
"Friendship is one of the sweetest joys of life. Many might have failed beneath the bitterness of their trial had they not found a friend." - Charles Spurgeon
Love to you,
Meredith